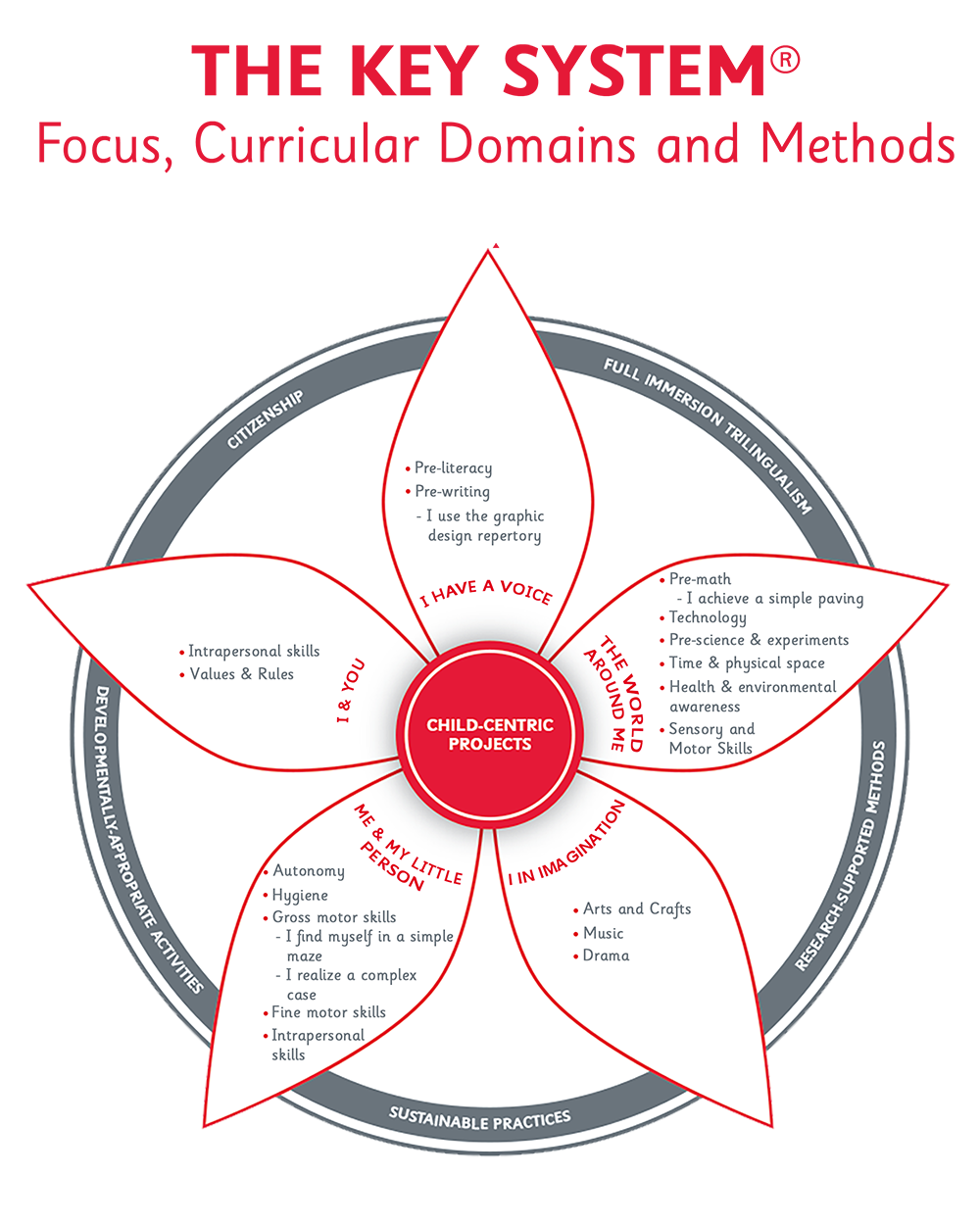 Key Nursery at Horsh Tabet follows the time-tested approach, the KEY System®, which provides children with an early childhood education that is project based, child-centric and trilingual - English, French and Arabic. It has been carefully put together by our team of education experts who understand that the first several years of a child's life are critical to their long-term development.

This system draws on international best practices in early childhood education and delivers a comprehensive program that allows children to become active participants in their own development, opening the way toward optimal growth and learning. It also enables children to develop critical life skills and become well-rounded individuals who have the ability to face the challenges and journey of life.

The KEY System® is a project based, trilingual, child-centric curriculum that is based on children's needs, academic curiosity, and socio-cultural concerns. Because language is an important development catalyst we offer instruction in English, French, and Arabic. Not only does it support children's cognitive development, but it helps prepare them to engage with today's diverse world, and ensure they have a greater advantage to pursue a more outstanding educational path and achieve balance in their lives and careers.
Our curricula focuses on five key areas: cognitive, linguistic, social, emotional, and physical development. Cognitive development involves language development, pre-literacy skills, pre-math skills, and pre-science skills. Linguistic development involves pre-writing and pre-reading.

Social development involves hygiene, interpersonal skills, autonomy, and world discovery. Emotional development involves art such as music and crafts. Physical development involves fine motor skills and gross motor skills. By providing instruction tailored to building these five areas, children leave KEY Nursery with critical early skills and competencies.

At KEY Nursery, the curricula is delivered by having children with varying abilities and interests work together in small groups on open-ended, short and long-term projects that aim to provoke children's creative thinking and problem-solving abilities and allow different possibilities of exploration, enabling children to develop skills in a variety of areas.